Which CS2 Trading Sites are legit?
There are many legit CS2 Trading Sites, that still work to this day. Here is a quick overview, that you can use to find the right site to use.
P2P Trading Sites – Trade safe with other players
P2P Trading is basically the new way to trade CS2 skins. The big advantage of P2P Trading is, that you can exchange your skins without paying any fees. It works like this: You have a skin, that you don't want anymore. Now you deposit your skin on a P2P site like CSGOEmpire or CSGORoll. The price of your skin is suggested by the site, but you can edit it yourself. However, you can't edit it freely, you can only put up to 20% discount or charge up to 50% extra. This means you shouldn't use P2P Trading Sites for CS2 skins with expensive stickers applied to them. On the other hand, you can use P2P marketplaces that allow you to set custom prices for your items to sell skins with expensive stickers.
After depositing your skins and receiving the coins, you go to the withdraw section. Look at all the skins in the withdraw section and find one, that you want to withdraw. Make sure you have enough coins to purchase the skin. Furthermore check if the skin has good condition (Factory New or Minimal Wear) and if it has good float value. If you found a good skin, select it and press "withdraw". Now open your incoming trade offers on steam and wait for the other user to send the skin to you. Don't worry if the seller doesn't send the skin, your coins will be refunded. Big sites like CSGOEmpire have over 15000 items in their store, so you will most likely find a good skin that you like. In conclusion, P2P Trading Sites offer quick and safe CS2 Trading for everyone.
Problems with P2P Trading Sites
There is one big downside to P2P CS2 Trading Sites. Most of those sites are CS2 Gambling Sites too. Therefore, you might think you can get better skins by gambling with your coins. DON'T DO THAT, if you don't want to lose your coins. Just use the sites for trading, don't gamble. Additionally, you have to be at least 18 years old to use these sites, you can get banned for not being at least 18 years old. Therefore, you shouldn't use these sites when you are not old enough, because you might lose your skins when you get banned.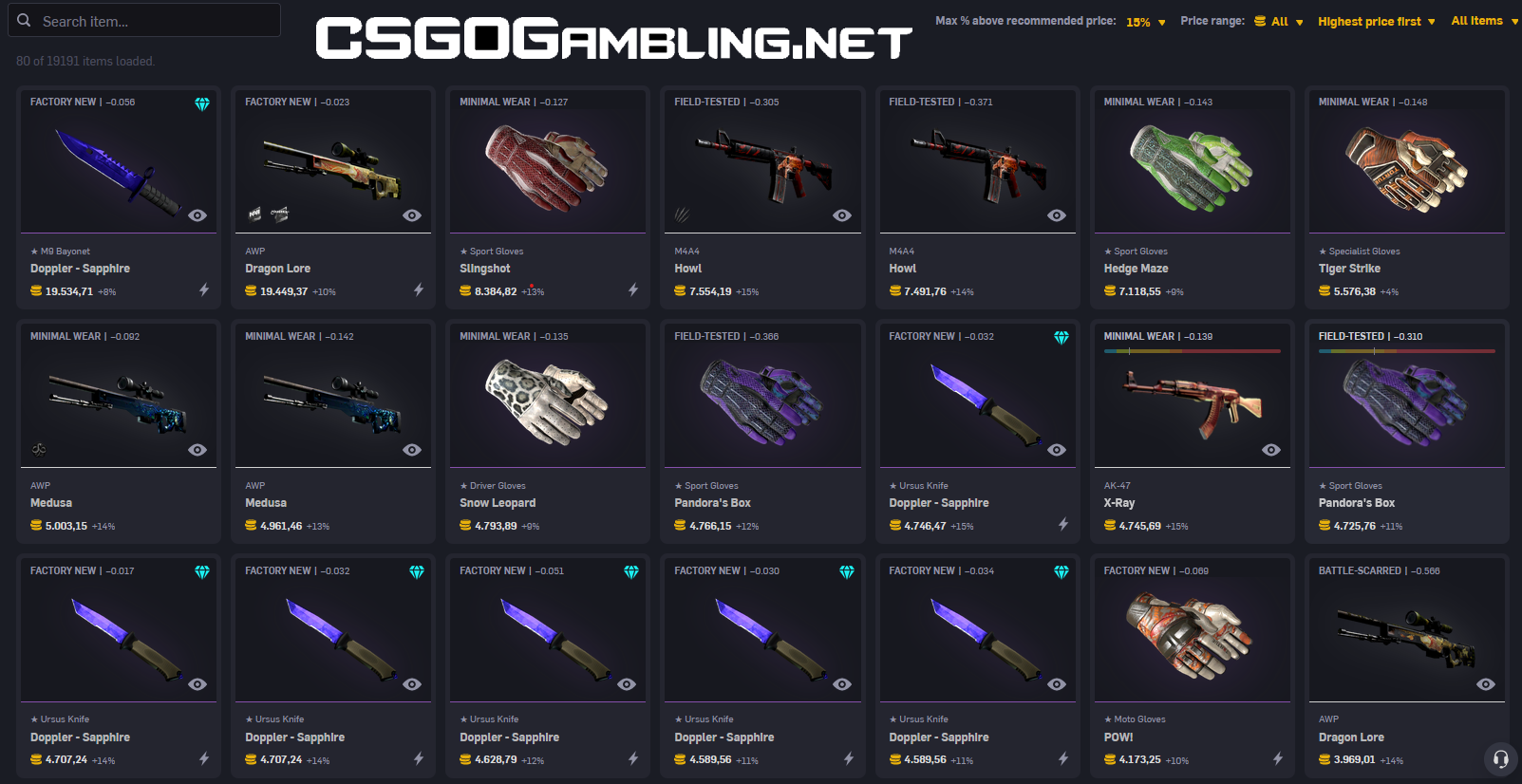 CS2 Trade Bots
Trade Bots are offered by many different sites like cs.money, cs.deals, tradeit.gg and swap.gg. You can instantly exchange your skins for almost any other skin instantly. Furthermore, you can also select skins from other games like Rust, Team Fortress 2 and Dota 2. However, CS2 skins are obviously more popular than everything else. Sites like cs.money are really convenient to use, but there is one big downside to them: They charge really high fees. You can expect to pay anywhere from 5% up to 10% trading fees. For example, if you want to trade your 100$ skin, you will only be able to trade it for other skins that are worth less than 90$. By using trade bots too much, you can destroy your inventory and make it worthless. This is why many players don't use trade bots ever.
However, if you don't care about the fees, Trade Bot Sites are really good. Some sites also offer a premium version for a monthly payment of around 10$, which lowers the trading fees they take. Most importantly, you should also compare prices before you do a trade. For instance, before you trade your skin on tradeit.gg, always check out how much you can get on cs.money, cs.deals and swap.gg. Also be careful when it comes to the skin prices. Some sites use highly inflated skin prices, to make you think you get a good price. But they also inflate the prices when you are trying to withdraw a skin, which means you don't get a good price in total.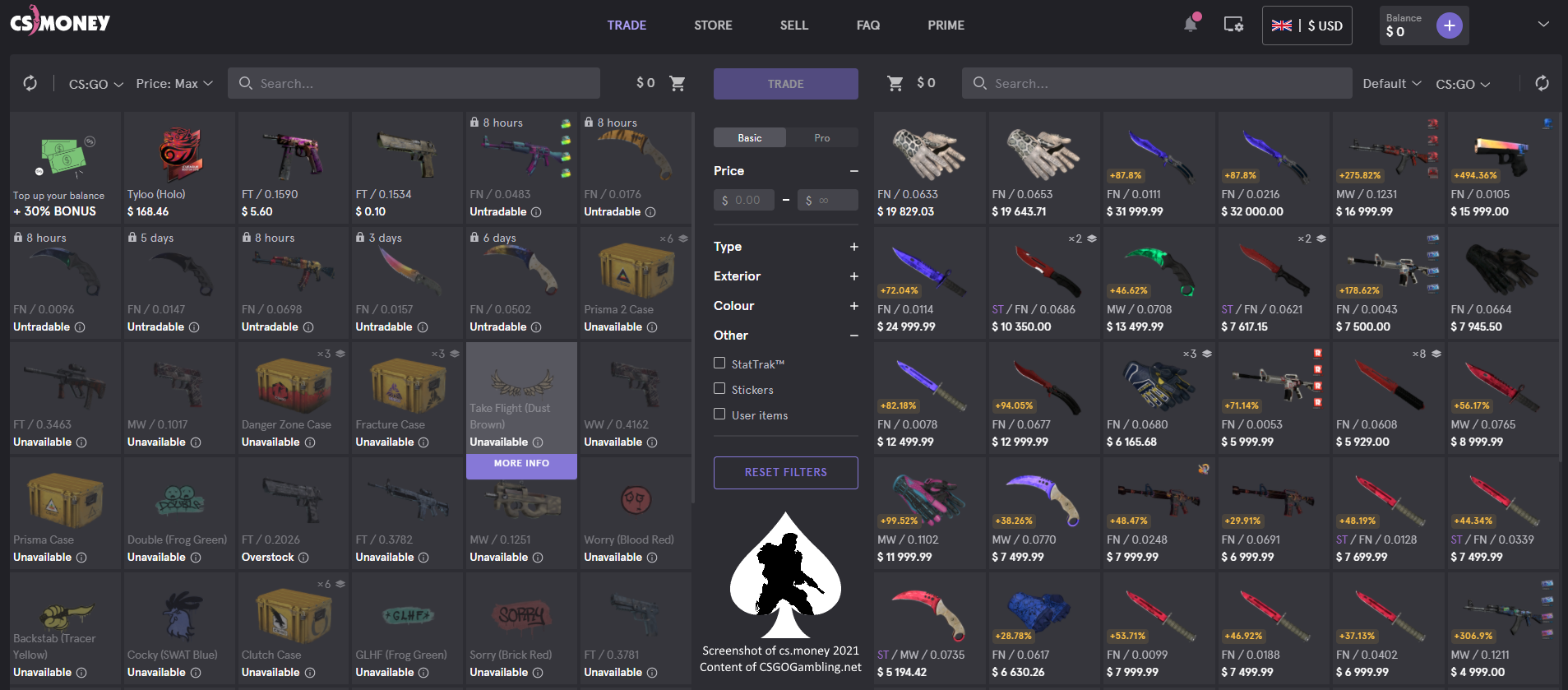 Common questions about CS2 Trading
What is the best CS2 Trading Site?
The best CS2 Trading Site is CSGOEmpire. They use a P2P system which lets you trade your skins with other players. You don't have to pay any fees. But you have to check the prices for yourself, some traders overprice their items.
Is CS2 Trading dead?
No, CS2 Trading is not dead. You can still trade with trusted traders and you can use P2P Trading Sites or Trade Bots to trade your CS2 skins. However, always be careful because they are still many scammers out there.
How can I trade in CS2?
You can trade with your friends in CS2 by going to their steam profile. On the right side, next to the Message-Button, there is a small arrow pointing down. Click that and select "Offer a Trade …". Now select the items you want to trade and press "Click here to confirm trade contents". After that click "Make Offer" to send your trade.
You are reading about the best CS2 Trading Sites that still work in 2023. Some links on this page lead to gambling sites. Some links are affiliate link, by clicking them you support us.