What is CS2 Crash?
CS2 Crash is a game mode that you can play on different so called CS2 Crash Sites. You can deposit your skins to those sites and win even better skins. However, you can also lose your skins while playing so be careful!
Crash is one of the communitys favourite gambling games. It is simple and can bring insane profits, but you can also play really safe and get some small wins.
Sites with CS2 Skin Withdraw
| Website | Description | Promo Code | Rating |
| --- | --- | --- | --- |
| CSGORoll | CSGORoll is a big CS2 Crash Site with other cool games like Roulette and Dice | FREEGAMBLING | ★★★★★ |
| CSGO500 | CSGO500 is a licensed CS2 Casino with a nice looking Crash game | GAMBLINGNET | ★★★★★ |
| Gamdom | Cool site with nice Crash mode, not too many skins for withdraw | freegambling | ★★★★ |
| CSGOPolygon | Good looking site with Crash game, but with annoying withdraw restrictions | GAMBLINGNET | ★★★ |
All Sites on this list offer instant CS2 withdraw. You will get the skins directly to your inventory when you withdraw them. However, if you are looking for a skin that is currently not available on those sites, you can withdraw crypto. Then you can use the crypto currency that you cashed out to buy CS2 skins from a marketplace or a trusted trader.
P2P Withdraw/Deposit systems
The sites on our list use P2P systems, to offer instant CS2 skin withdraw and deposit. On the one hand someone wants to deposit a skin to the site. On the other hand someone wants to withdraw a skin to his CS:GO inventory. Those interests get matched by the site. If you want to deposit a skin, you will get matched with someone that wants to withdraw this skin. You send the skin to him and get credits on the site. His coins on the crash site get transferred to your balance and he receives your skin to his CS2 inventory.
Find legit Crash Sites
Finding legit CS2 Crash Sites is actually pretty easy, because there are many good sites out there. Our favourite sites for Crash are CSGORoll, CSGO500 and Gamdom. All of those sites are trusted by the community for many years now and their crash game is provably fair. The best site at the moment is probably CSGORoll, even though they offer no crypto withdraw. They have less restricted countries than Gamdom and CSGO500, which is good for you if you live in a restricted region. Here is a picture of CSGORolls Crash game: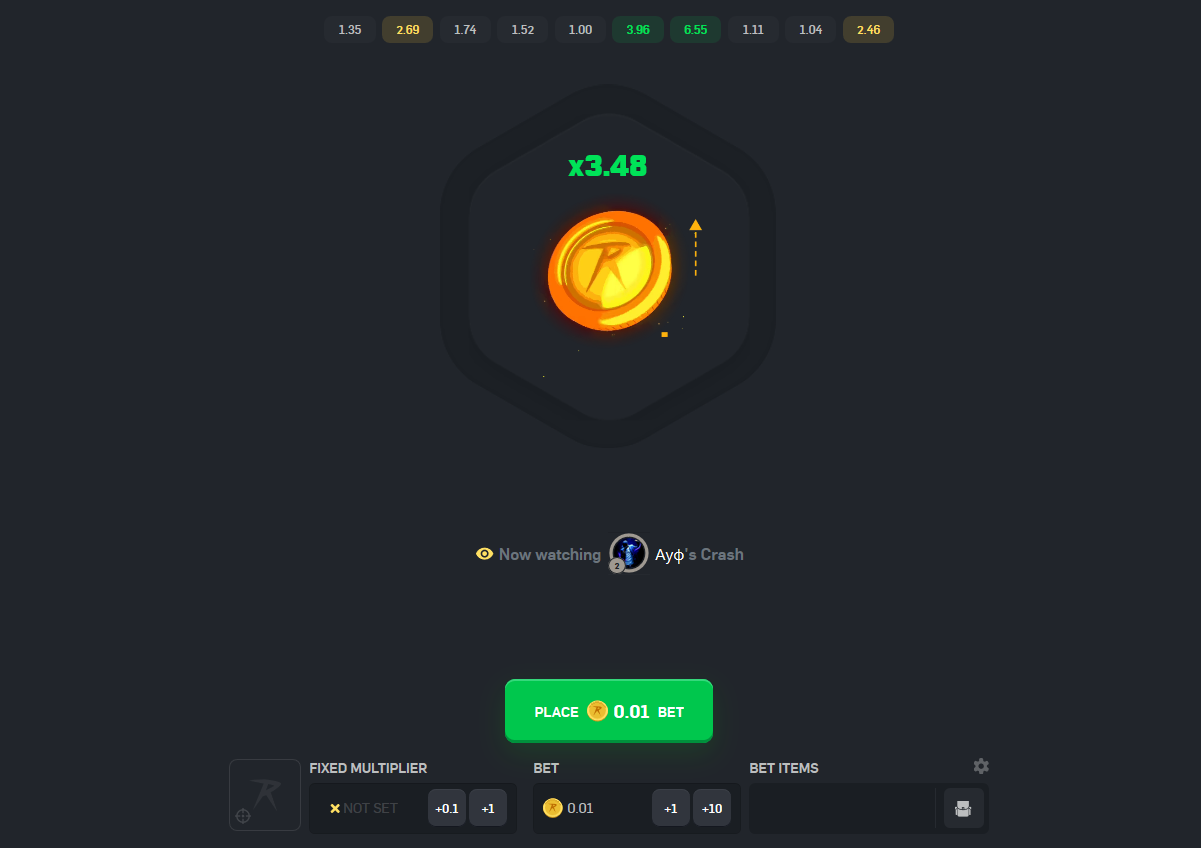 Provably Fair
All Crash Sites on our list are provably fair. That means that those sites can prove to you, that they can't rig any outcome of your bets. In this case, they can't manipulate the multiplier for the ongoing or upcoming crash. The multiplier for the upcoming crash is randomly generated by the code and the site owners can't change the outcome while the round is going on. So if you bet 200$, the site owners can't just let it crash on a low multiplier. The multiplier is random and the crash mode is safe.
You should not play on Crash Sites, that are not provably fair. This most likely means that the site is not legit.
Frequently Asked Questions about CS2 Crash Gambling
What is CS2 Crash Gambling?
CS2 Crash Gambling is a game where you bet on a multiplier that keeps increasing. If you press "cash-out" before the multiplier crashes, your bet gets multiplied with the multiplier you cashed out at. This game mode is very exciting and therefore loved by many CS2 gamblers.
Is CS2 Crash rigged?
No, CS2 Crash can't be rigged, if the site you are playing on is provably fair. Gambling sites like Duelbits, CSGORoll and CSGO500 offer a provably fair Crash game that can't be rigged at all.
Where can I play CS2 Crash?
You can play CS2 Crash on CSGORoll, CSGO500, Duelbits, CSGOLuck, CSGOPolygon, and Gamdom. All of those sites are provably fair and allow you to withdraw CS2 skins.
Is Crash Gambling legal?
Yes, Crash Gambling is legal in many countries across the globe. However, in some countries Crash Gambling is not allowed, for example in the United States online gambling is prohibitted.
How do you play Crash game?
First of all, you have to decide how much you want to wager. Let's say you wager 1 coin. Now you wait for the game to start. When the game starts, a multiplier will be shown that keeps going up. You need to press "cash-out" before the game crashes. If you don't cash out in time, you lose your 1 coin bet. On the other hand, if you manage to cash out before the game crashes, your coin will be multiplied by the number you cashed out at.