If you are looking for the best Gamdom Referral Code to start playing on the site, we got you covered. Our list includes all the trusted codes that you can use to get a free bonus on the site. Gamdom is a great Crypto and CS2 Gambling Site. They have many great games and a good looking design. Above all, the site offers instant CS2 skin withdrawals and deposits. However, compared to other sites like CSGOEmpire, CSGORoll and CSGO500, they don't have as many skins available in their store.
List of Gamdom Referral Codes for 2023
freegambling – By using this code you support our site, CSGOGambling.net
csgohowl – By using this code you support CSGOHowl.com
csgosuite – By using this code you support CSGOSuite.com
csgorat – By using this code you support CSGORat.com
csgocroco – By using this code you support CSGOCroco.com
You can use this any Gamdom Referral Code on this list, they are all confirmed to be working and support trusted sites.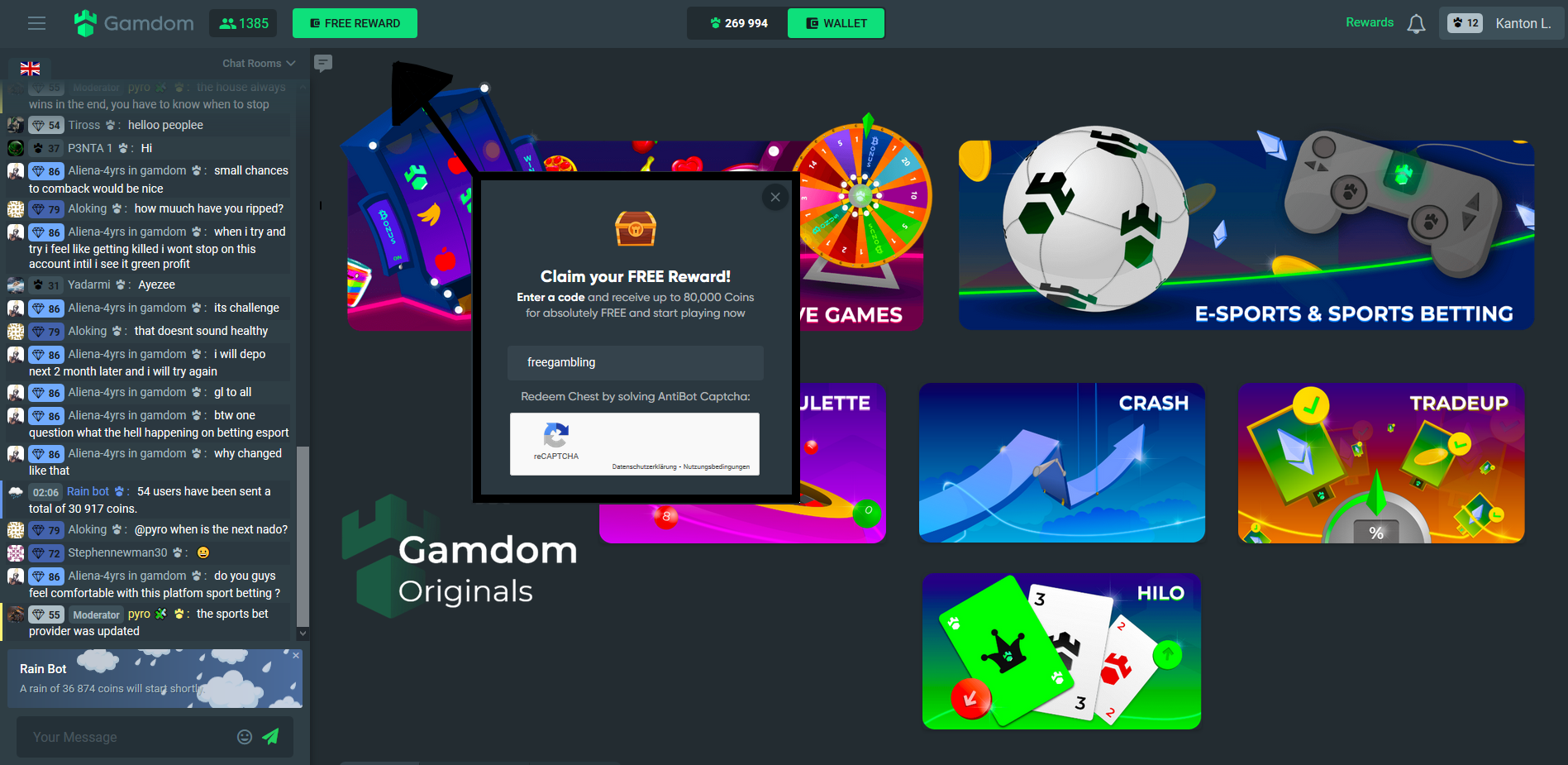 Everything you need to know about Gamdom
Gamdom is one of the big gambling sites that started in 2016 and stayed online all the time. As you might have already noticed, Gamdom is one of a few sites that don't have "CS2" in their name. This is because Gamdom wants to be able to be an online casino for everyone, not just for CS2 players. Therefore they offer Crypto withdrawals too and are open to users without a steam account. While sites like CSGORoll and CSGOEmpire only offer a login through steam option, sites like Gamdom and CSGO500 also other options. You can use social accounts like Google or create a new account with your email and password.
Am I allowed to use Gamdom?
Gamdom uses a Curacao Gaming license, which means they are not allowed to offer their services to customers from Aruba, Austria, Australia, Bonaire, Curacao, France, French Guiana, French Polynesia, Germany, Guernsey, Gibraltar, Hungary, Isle of Man, Jersey, Liechtenstein, Luxembourg, Martinique, Reunion, Mayotte, Netherlands, United States, United Kingdom or Spain. In conclusion, if your country is on this list or online gambling is restricted in your country, you can't play on Gamdom. Moreover, you have to be at least 18 years old, Gamdom doesn't allow underage gambling.
Is Gamdom provably fair?
Yes, Gamdom is provably fair. They offer 4 exclusive games that are all provably fair. Provably fair means that they can't rig or manipulate your bets, it is all random. They also offer third party games like Slots and Live Games, those are not provably fair. However, we suggest you to play Gamdom Originals anyways, those game modes are more fun.
What games can I play?
You can play Slots and Live Games and 4 Gamdom Originals:
Crash – Bet on the graph and cashout before it crashes!
Roulette – Bet on Red, Black or on Green if you like high risk!
Tradeup – Trade up your bad skins to cool and good looking skins!
HiLo – Bet on the next card: Is it going to be High or Low, Red or Black?
How can I activate my referral code on Gamdom?
First you got to sign in through steam. After that, you click on "FREE REWARD" in the top left corner next to the Gamdom logo. Now you have to type in our referral code "freegambling". Before you are able to open your free case, you have to solve a captcha. Afterwards you can open the case and claim your free reward!