Many players want to buy the coolest skins for their CS2 inventory. However, skins can be really expensive on the Steam Community market, so players keep looking for good alternatives. Most players already know, that you can buy skins on a CS2 Skin Market outside of steam. Some of them don't know which marketplace is the best one, so they get scammed or pay high fees. This guide will give you a good understanding, how to get a CS2 skin for the best price and how CS2 skin markets work in general.
Buying CS2 Skins
When buying CS2 skins, you have to pay attention to some important things. The first one is you always want to buy risk-free and cheap. On the one hand, you should always look for the cheapest price. On the other hand, you should make sure that you don't get scammed (Buy from trusted marketplaces or persons). The safest way to buy CS2 skins instant, safe and cheap is to use a CS2 skin market from our list. There are many advantages that marketplaces have compared to the Steam Community Market. We will go deeper into detail about the advantages in the paragraph below the list.
Where to buy CS2 Skins?
| Website | Fees | Deposit options | Withdraw options | Rating |
| --- | --- | --- | --- | --- |
| Skinport.com | 5% - 10% | Crypto, G2A Pay, Bank Transfer, giropay, Skrill, Credit/Debit cards | Bank Transfer, Payoneer | 5 of 5 |
| Bitskins.com | 5% - 10% | | | 4 of 5 |
| Skinbaron.de | 15% | | | 2 of 5 |
| Stonefire.io | 5% - 10% | | | 1 of 5 |
Marketplace or Steam Community Market?
You may ask yourself, why would I risk using a CS2 Skin Market, when I can get my skins risk free on steam? There are many reasons, we will name some of them here.

The 1st reason is, that you can see the float value of the skin. The float value of a skin describes how good the condition of the skin is. So if you are looking for a Tiger Tooth (Factory New) and one of them has a float value of 0.066 and the other one has a float value of 0.0002, the one with the smaller number will look way better (less scratches). On the Steam Community Market you can only see the condition of a skin, not its float value. If you decide to use the Steam Community Market in your browser, you can install Chrome plugins that show the float value. You can also inspect the skin in-game, this will show the float value as well.
The 2nd reason is, that the Steam Community Market is capped at 1800$, so if you want to sell or buy a Dragon Lore or a Howl, the SCM is useless for you. Third-party CS2 Skin Markets don't have this cap, so you can sell skins or buy high tier skins. Rare high tiers like Rubys, Sapphires, Emeralds, Dragon Lores and Howls are only sold on external CS2 marketplaces. Big traders from the chinese scene use Buff163 nowadays, but Skinport, Bitskins and Skinbaron also offer great high tier items. Always check prices on all marketplaces before buying a high tier skin, it could be hundrets of dollars difference in price.
The 3rd reason are the lower fees. If you want to sell a skin, you would have to pay 15% fee on the Steam Community Market. On third-party marketplaces you usually have to pay 5% only (10% on some). This makes prices a lot cheaper and is better for sellers and for buyers. You have to be careful, because the well-known marketplace Skinbaron is also taking 15% commission on your sales. We suggest you to use Skinport if you live in Europe and Bitskins if you live in America. Skinbaron can also be used for buying, but don't use it for selling. Always compare prices on all sites before you buy a skin.

The 4th reason is, that a CS2 skin market will always be cheaper than the community market. On the Steam Community Market, sellers can't withdraw their balance. So if they sell something, the money that they get is stuck on steam. They can buy games with it or other skins, but they can't withdraw it to their bank account. This makes them ask for higher prices. You can see on the picture below, that Skinport (well-known CS2 Skin Market) is 170€ (over 200$) cheaper than the Steam Community Market. So if you want to buy a knife or other expensive skins for CS2, you can safe hundrets of dollars/euros on your purchase.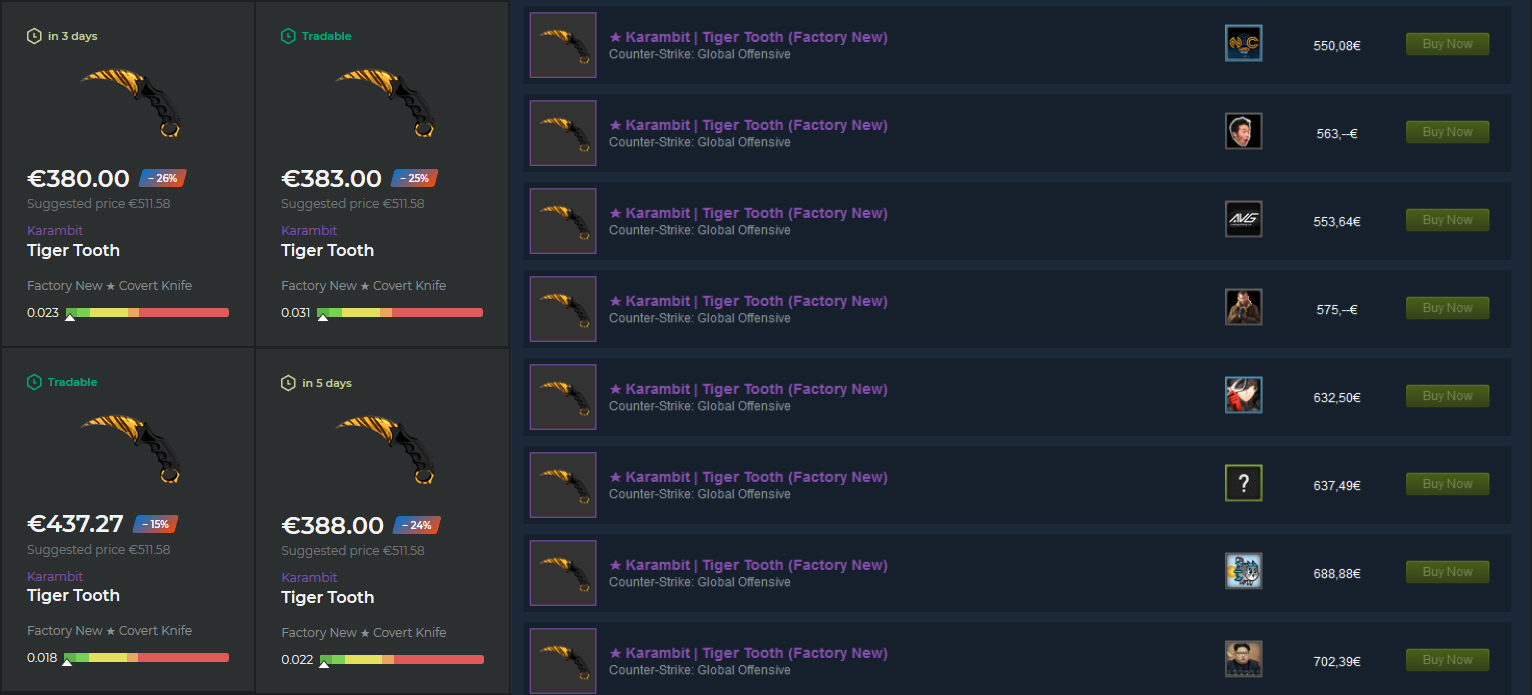 Steam Community Market (CS2)
Of course the Steam Community Market also has some positive points. For example, if you want to buy a game on steam, you can just sell some CS2 skins on the Steam Community Market to buy it. It is also 100% safe and if you run into issues, you can always contact the Steam Support. The Steam Community Market is the only marketplace that doesn't use bots or a P2P system. So any problems with bots and delays on P2P trades are not issue, if you decide to use the Community Market.
Buying CS2 skins with Crypto
If you want to buy CS2 skins with crypto, for example Bitcoin or Ethereum, we suggest you to use CSGOEmpire or CSGORoll. The 4 first sites on our CS2 Gambling Sites list offer Crypto deposits. Therefore you can deposit any big cryptocurrency and withdraw CS2 skins for a cheap price. However, it is not possible to deposit skins and withdraw cryptocurrencies on those sites.